A question was raised in Warlock0322's blog of his 1:32 Hasegawa build of Don Smiths "Ole Cock III".
Quoted Text
---
Paul & friends-

I have seen 2 schools of thought on Ole Cock III colors. One is that the colors in the photo are dark and light grey, the other is that they are the green and grey used on other 56FG P-47s. Any thoughts on this?

Tom

---
This is the profile Pauls working on for his build.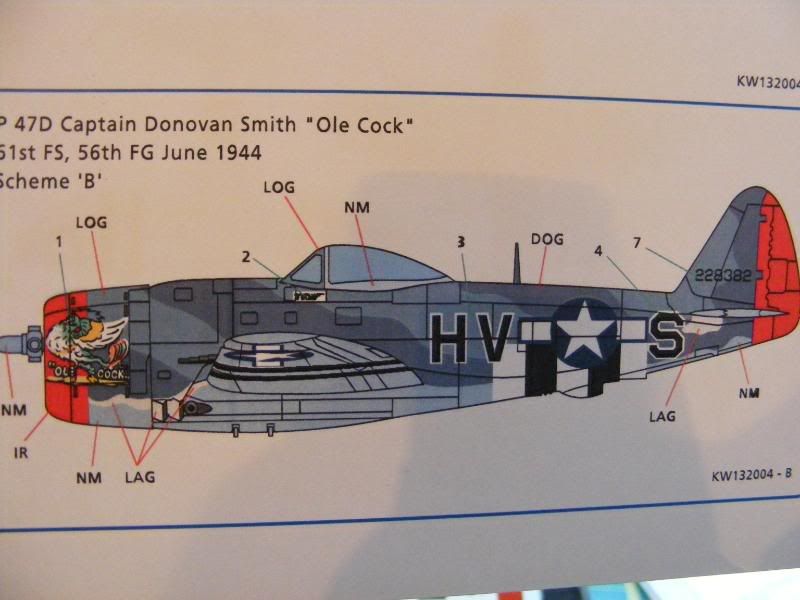 And a period photo of the actual P-47 which matches the profile.
The darker colour could be interpreted as being either dark green or a dark grey in the photo.
So, no conclusions to the grey or green debate there.
BUT
, this is where it gets really interesting.
Look closely at the demarcation line across the cowl flaps and fusalage front directly behind the tail feathers on the nose art.
Now look at this colour photo of that area.
The darker colour,(on my monitor and to my eyes) looks more like dark green.
But wheres the demarcation line behind the artwork?
Personally, I think we are looking at 2 seperate colour schemes on Ole Cock III between D-Day and Jan 1945 when Don Smiths tour finished and Ole Cock was transferred out of the 56th FG to the 9th Air Force and became "Whooooooo" of the 509th FS 405th FG.
But thats just my own thoughts at this time, and this is one little "project" I'd like to look into more as a SIG in general.
Nige
:-H